Visual IRC
Features & Screenshots
Download ViRC!
Scripts
Visual IRC Forum
Chat in Undernet #ViRC
Awards and Reviews
About the Author
About the Technology
---
ViRC Antique Shop
---
New version announcement!
You may have been wondering where the next version of ViRC is. Well, the wait is nearly over. I've been keeping this under wraps for a while now, and the free trial installer isn't quite available yet, but here's the latest screenshot (click to enlarge):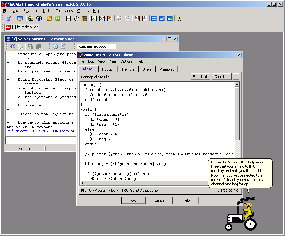 That's right. All the power of Visual IRC is now available to every mIRC user as Visual mIRC, including these features and more:
Turbo DCC
DCC Whiteboard
Object Versus script engine, compatible with every script at VisualScripts.com
Animated help man with FREE "clue tractor" upgrade - if you place your order this month!
Watch this space for release dates, pricing plans, and information on other upcoming products like Visual XiRCON, Visual BitchX, and Visual BIRC!

--Jesse McGrew, 1 April 2005